Dear guests and regular users!
Easter brings fun, Easter bring Happiness, Easter brings God's endless blessings, Easter brings love and the freshness of spring.
Happy Easter to you and your family!
From now we are limited in space at Keep2Share and Publish2Me. We are allowed to upload 6Tb only.
Currently we have 1200+ tv series as total of 15Tb in 360p, and 5Tb in 720p.
That's why we are able to upload only the latest and the popular tv series in 360h quality.
But we have unlimited space an File.Al, so we upload all tv series there in 360p and 720p
So, if you're planing to upgrade to premium, we advice you to choose file.al. Yes, it's more expensive, but it contains more files and offers bigger speed for free and paid users.
Kind regards,
FindVideo team.
Agents of SHIELD season 1 episode 16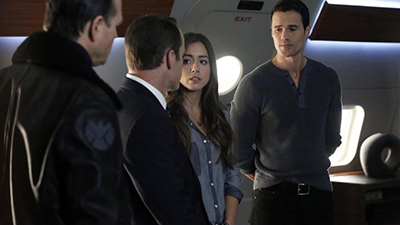 Name: End of the Beginning Air-date: 2014-04-01 Director: Bobby Roth Writer: Paul Zbyszewski Guest Stars: Bill Paxton, Saffron Burrows, J. August Richards, B.J. Britt, Titus Welliver, Maximiliano Hernández, Brad Dourif
Agents Garrett (Bill Paxton) and Triplett are back to help Coulson's team track down S.H.I.E.L.D.'s nefarious enemy--the Clairvoyant. But will Deathlok destroy them all to protect his master's identity?
Download links
360p (mp4, 221.2 MB)
720p (mp4, 610.5 MB)
360p (mp4, 221.2 MB)
720p (mp4, 610.5 MB)
Related episodes: